Yep, I said Movie Edition!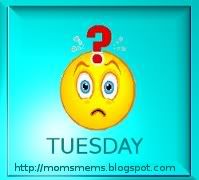 This week I need to know two things. Well actually, one thing, but I'd like to know a second.
I'll start with what I want to know...what's your favorite children's movie? Or, what's your child's favorite movie?
What I need to know is...at what age can you attempt taking a child to the movie theater? I ask because AMC Theater at Columbia Mall is offering $1 kid-themed movies all summer long on Wednesday mornings at 10am.
Here
are some details about it. It seems like a good time to try to take Jillian to try it out. If we have to roll out, we're only down a buck, or two if they charge for her. There are only a few weeks left, so I thought I'd throw it out there and see what my wonderful blog followers think.
Have something you need to know?
Here's
the info on how to join in!