With more than ten "Need to Knows" under my belt, I've decided to up the ante. Because my blog readers know a lot of stuff. Maybe I know some things too. And I bet that some of my readers know what you need to know. So share what YOU need to know! Here's how it works.
1. Create a post about what YOU need to know on your blog. It doesn't have to be anything fancy; clearly, mine have not been extravagant.
2. In that post, mention this "I Need to Know" carnival.
3. If you want to, copy the text below to grab my button (that my wonderful husband made for me last night!) and paste it in your blog.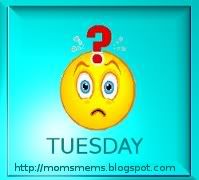 4. Leave a link to your Need to Know blog post in your comment (not your main blog page, just the post).
I haven't figured out the nifty Mister Linky stuff yet; I'll work on that!
5. Finally,
if
when other people start commenting, try to visit their posts to find out what other bloggers need to know. And comment, comment, comment! Because who doesn't love comments?
6. Oh yeah, I forgot the most important part. Have fun!!!
Now for the actual post...
This week's post is aimed at you readers with kids or experience with kids. Jillian and I usually do our running around in the morning, and get home around nap time. Often, she is asleep when we get home, and I transfer her right to her crib. Longer naps occur on a full tummy. Therein lies the dilemma. When we're en route around lunchtime, before nap time, I like to give her something to eat in the car, so that when we get home, she can sack out for two to three hours. Cheerios are a great car food, but I feel guilty giving her something so snacky for lunch. I've tried bananas (mushed in the car), I've tried fruit bars (STICKY!), I've tried Pop Tarts (sticky filling rubbed all over legs). I'm out of ideas for non-sticky, filling, somewhat nutritious lunch food that can be eaten in the car. Jillian's not good with sandwiches yet, so that's out. I've done a cheerio/raisin mix in her snack trap, but I need some variety. So help me out readers!
This week, I need to know what kind of foods are not messy that toddlers can eat as a meal in the car?